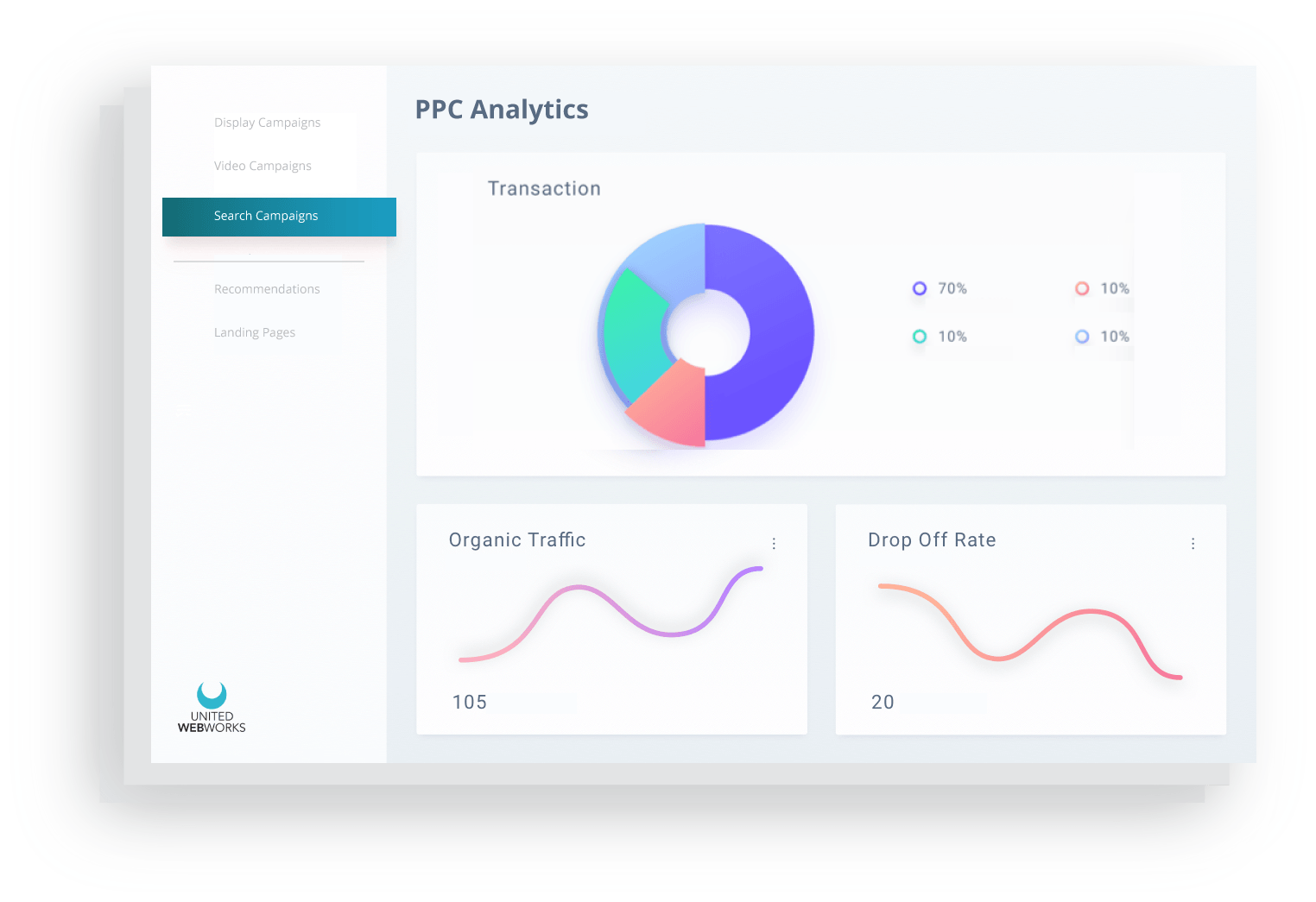 Pay Per Click
PPC Management
Take Your Digital Marketing Campaign To The Next Level With A Proven PPC Strategy. PPC Solutions Tailored to Your Business Needs.
Want to Drive More Traffic To Your Business?
Conversion Tracking
We will base your campaigns on all the data that's important to your business.
Precision Targeting
We identify your most valuable customers and deliver ads to them at the right times.
Results Reporting
You'll receive emailed Performance Reports on a schedule that meets your needs.
Ernestine just invested in a professional website, complete with online ordering capabilities and email marketing. Ernestine thought this would make her happy, but she's not happy. Where are the hundreds of customers placing orders and visiting her store?
She doesn't know that she's invisible.
No one told her about PPC Management, Pay Per Click, or Google AdWords with long tail keywords, or location targeting or her quality score.
Don't be like Ernestine. Invest in PPC.
United WebWorks can make your website roar the loudest right away when someone asks Google to find your product or service! Your online marketing presence without Google's AdWords Pay Per Click Management tools is not going to scare any of your competitors.
Wouldn't it be great to pay only for ads that people actually respond to? How about targeting your ads to specific cities, such as Savannah, GA, zip codes, times of day, or days of the week? AdWords PPC Management could be the answer to cutting your advertising budget down to size AND substantially increasing your visibility!
Successfully incorporating Pay Per Click into your online marketing plan can be a daunting process. United WebWorks knows the ropes and we're ready to help you supercharge your web presence.
Did you know…?
The way to the top of the page is through your Quality Score. How do you get a high QS? Google looks at the relevance of your keywords, your account history, the effectiveness of your landing page, and other factors.
Your cost per click (CPC) is determined by your bid amount PLUS your Quality Score. You could potentially pay less than a competitor for better page space!
Choosing Keywords is THE crucial step in making AdWords PPC work for you. What you pay per click is largely determined by the words or phrases you choose to be attached to your ad. Go for specificity and relevance, and keep refining them until they are giving you the maximum action per click.
United WebWorks has helped businesses like yours with PPC Management. Whether you are located in Savannah, GA or anywhere else, contact us and become another success story.
Marketing Can Be Overwhelming
Let Us Help
With United WebWorks, you have your very own digital marketing department with certified experts in each of the skills listed below: